WHY DID OAKLAND NOT BURN BACK IN THE 1960'S SINCE THE MEDIA PLAYED US UP TO BE THE MOST MILITANT CITY IN AMERICA.
Friends, I hope you enjoyed the first six posts our series detailing the life of Oakland original pioneer, film maker, engineer, TV producer, and night club owner–just to name a few titles–Mr. Ed Howard.
In the second half of our sixth segment, a two-part story especially timely given the current civil rights movement in our streets, Mr. Howard in his own words memories from his role in Oakland's political movements of the 1960's.
Apollo Papafrangou
ED HOWARD'S LIFE STORY:
I know now why I made such a vital impact with the Kaiser Industries Advisory Board members because at the time they had no real connection to the Black community.
Kaisers Engineers promoted me from the Configuration Engineering Designer and gave me a title of Assistant to the Vice President of Kaiser Engineers and et on the Kaiser Industries Board of Directors; and an office next to his; and my own secretary – I was still in my 20's.
I was the brainchild of the things I made happen At Kaiser (listed below) through my position listed above working with the Kaiser Volunteers who donated their time and skills to local Black business projects.
In the listings below, every time you see the word DIGNITY and NAIROBI CONSULTANT AND ASSOCIATES it's the same as saying the Afro American Association.
• I Designed the Configuration Engineering Drafting Training program, interviewed each trainee and was their teacher for two years (two different classes); and placed them in Kaiser Engineers and Kaiser Industries Engineering design departments after they completed the program.
• Summer Hiring Program: Placed high school students in Corporation Business office training positions each summer.
• Dignity Inc.: The economic arm of the Afro-American Association and that arm were Attorney Don Warden and myself.
• I was the Producer of the Black Dignity TV Show on KGO-TV in San Francisco California.
Nairobi Consultant and Associates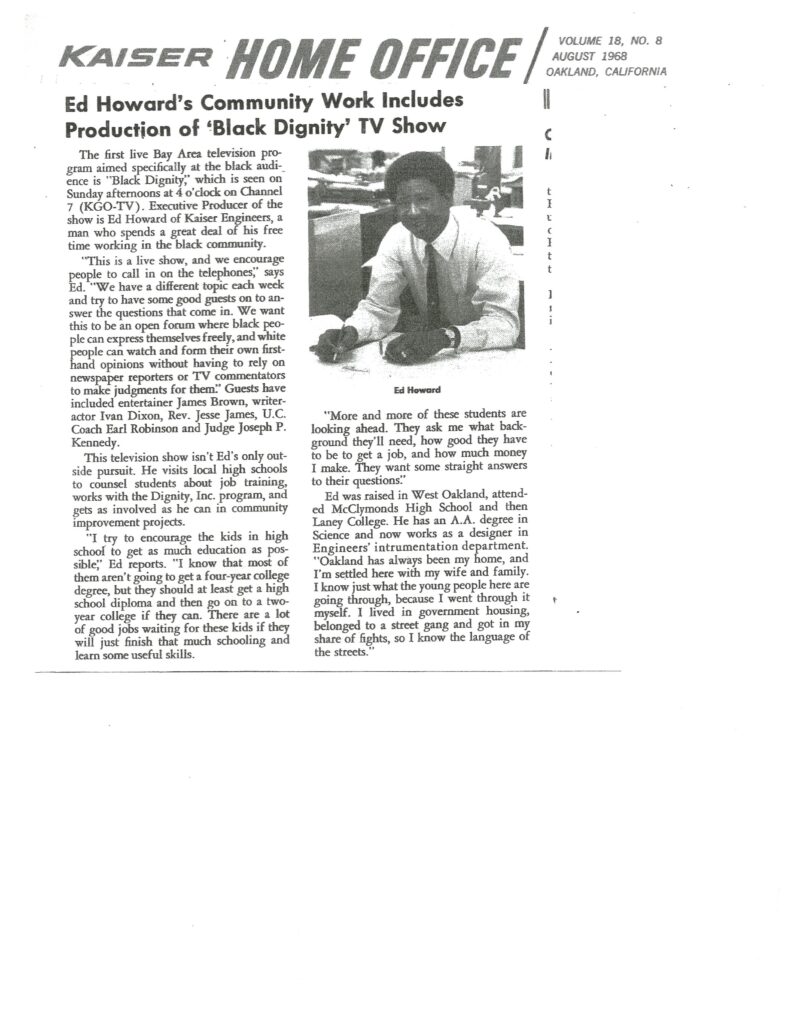 • Dignity Enterprises
• Dignity Sewing Company
• Dignity Mobile Car Wash
• Nairobi Consultant and Associates (Black professionals and business supporters)
• Dignity Press (I personally signed for a loan of $50, 000 from Bank of America for the printing facility, equipment and production stock for this business start-up).
• Dignity Wooden containers pallets and other related products. (I redesigned the first pallet).
The activities above were widely known in Black Oakland.
READ THE KAISER HOME OFFICE NEWSLETTER FOR MORE DETAILS ABOUT THESE PROGRAMS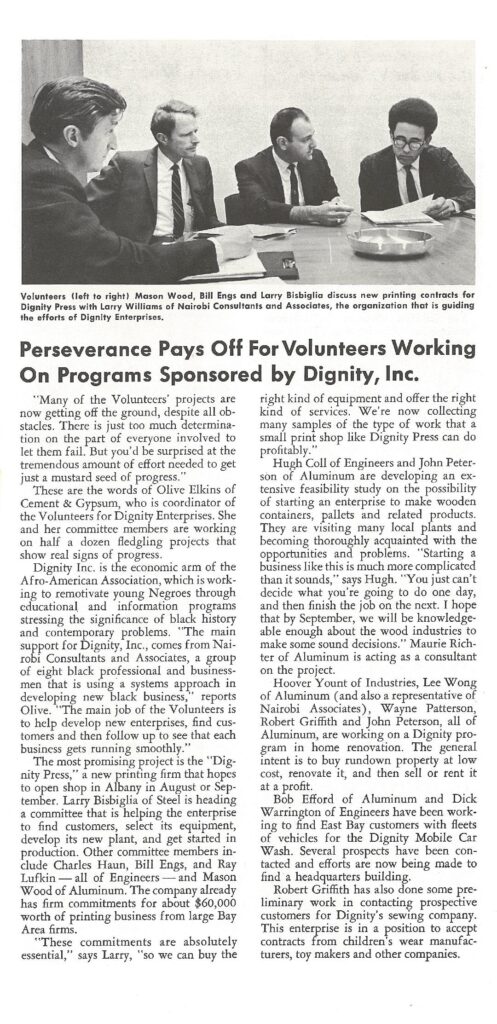 Many people in the media at that time speculated that Oakland would burn – not one match was ever scratched. Black Oakland was too busy taking advantage of the opportunities being opened up to us.
West Oakland Stories Positive Feeling Movement Inc – "No Negative Speak" with each other…
STAY TUNED: Ed Howard resigns from Kaiser and goes into business for himself in the coming 7th segment.
Pic 1: Ed Howard Producer of Black Dignity TV show
Pic 2: Kaiser Newsletter Description of projects Ed Howard masterminded under the name of Dignity Inc and Nairobi Consultants and Associates.
Pic 3: Ed Howard present day
Copyright © 2020, West Oakland Stories Positive Feeling Movement Organization